The Boyfriend: Linen, White
Customer Reviews
Write a Review
Ask a Question
09/17/2021
Ann S.

United Kingdom
Love my shirt
The linen is beautiful and the cut of the shirt just perfect. I am very happy.I have bought both the blue and the white and am equally pleased with both.
09/11/2021
Joanna L.

United Kingdom
Clsssic white shirt
Lovely quality and to wear. I would personally say to size up as I found the 10 not as oversized as I excepted. Of you want to wear it loose I think bigger might look better. Tucked in the normal sizing is ok.
09/07/2021
Sarah R.

United Kingdom
I am in Love with this Shirt
I love this shirt, the material hangs beautifully, creases in all the best ways and looks wonderful worn loose over a bikini, tied in a knot around my waist, or buttoned up over jeans, chinos and shorts. I love WNU shirts and am collecting them. They are expensive, but I buy quality things that last. Everything about WNU chimes with me: the plastic free packaging, the quality of the fabric and the cut of the shirts. They make me happy.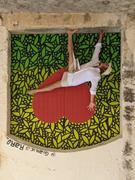 09/08/2021
With Nothing Underneath
Hi Sarah, Thank you so much for this wonderful review and we absolutely LOVE this image of you!